Destination Hiva Oa : key info and airports
Hiva Oa, the island dear to the hearts of Paul Gauguin and Jacques Brel, lies 1,184 km northeast of Tahiti. This rocky island with its beautiful beaches of black sand exudes a unique power and charm. Goats frolic freely in this vast landscape, still inhabited today. Lush green valleys, ideal for exploring, are home to impressive archaeological sites, such as the huge complex of Taaoa and that o...
See more
Practical information
Population : + 2 447 inhabitants.
Surface area : 123 sq. miles.
Minimum flight duration : 3h15
Distance from Tahiti : 1434 km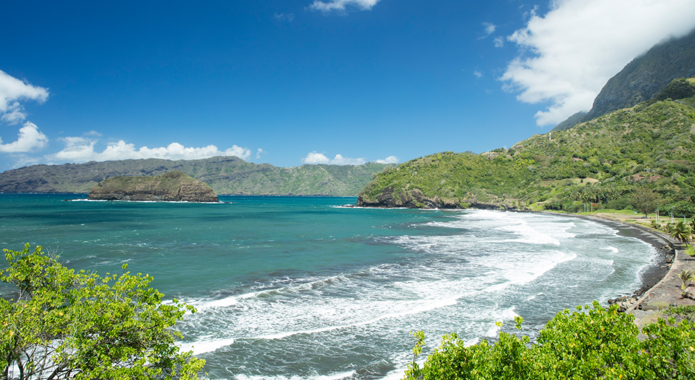 The good reasons to visit
Exceptional, captivatingly beautiful scenery: 123 sq. miles of lush mountainsides, contrasted by lovely valleys where wild horses roam.
A place of pilgrimage: visitors come and contemplate the graves of Brel and Gauguin.
Impressive archaeological sites: Puamau and its tikis, the biggest in French Polynesia, or Taaoa and its countless paepaes (stone platforms).
Cultural centres: the Gauguin Museum, Jacques Brel Cultural Centre and Atuona craft centre.
A multitude of artists: sculptors, tattoo artists, artisans, singers and dancers.
Lots of options for days out, on foot, by 4x4 or on horseback.
A day trip (by boat) to the charming neighbouring island of Tahuata.
Do not miss
The Cimetière du Calvaire, in Atuona, where Gauguin and Brel are buried,
The tohua Pepeu and the Atuona craft centre,
The Gauguin Museum in Atuona,
The Jacques Brel Cultural Centre in Atuona,
The village of Puamau and its giant tikis (the biggest in French Polynesia),
The huge paepae of Taaoa, "Tahua Upeke", and the neighbouring village and church,
The Eiaone and Punae rock carvings,
The picturesque village of Hanaiapa,
The Tahauku rock carvings,
The island of Tahuata.
Did you know that
The biggest tikis in French Polynesia were discovered in the bay of Puamau: the largest, known as "Taka'i'i", is 2.43 metres tall (almost 8 feet).
One of the Puamau tikis represents a woman lying down.
Paul Gauguin and Jacques Brel are buried in Atuona's main cemetery.
With an area of 123 sq. miles, Hiva Oa is the third largest island in French Polynesia, after Tahiti and Nuku Hiva.
There is a time difference of half an hour between Tahiti and the Marquesas Islands.
Air Tahiti magazine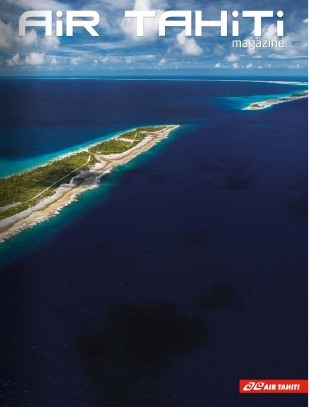 Hiva Oa airport (Atuona)
Hiva Oa airport, in the Marquesas Islands, is some distance from the village of Atuona.
There is no shuttle service, but taxis are often available upon arrival. Otherwise, you will need to make the journey by car.
If you have booked tourist accommodation, find out from your hosts whether they can arrange your outward and return transfer.
A public shuttle service, Te Ata O Hiva, allows you to get to the islands of Tahuata and Fatu Hiva from Hiva Oa. Please, c heck with the DPAM (Direction Polynésienne des Affaires Maritimes) f or more information.
Services available
Snack bar
Souvenir shop
Telephone kiosk
Taxis
Toilets