Destination Fakarava : Infos clés & aéroport
Fakarava, also called Havai'i or Havaiki in the past, is located 488 kilometers (303 miles) to the northeast of Tahiti. This atoll is gigantic; the second largest in surface area in the Tuamotu Archipelago. Veritable jewel of the South Seas, the gold or pink-toned motus of fine sand extend out of sight.
See more
Practical information
Population : + 855 inhabitants
Surface area : 270 sq miles (lagoon)
Minimum flight duration : 1h10
Distance from Tahiti : 453 km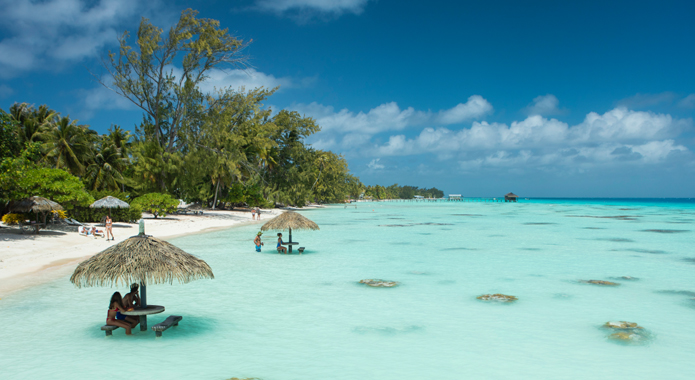 The good reasons to visit
A splendid atoll, with unspoilt nature, forming part of the UNESCO's Biosphere Reserve since 2006, due to its particularly rare flora and fauna.
Superb "motus" of pink and white sand, dotted with coconut trees, great for escaping, away from everything.
The crystal clear waters, ideal for swimming, snorkeling and diving.
The exceptional dive sites: the northern pass is the largest in French Polynesia (2,624 ft wide) and allows the observation of the "big wildlife" and exceptional coral reefs; the southern pass also offers a very rich and picturesque underwater landscape.
Cultural and historical sites to explore.
The inland and water activities.
Do not miss
The exceptional diving and snorkeling spots, particularly the northern and southern passes,
excursions to secluded fine sand motu (islets) on the northern part of the atoll but also to southern pass area,
the old Tetamanu village with its church built in coral (south pass),
pearl farms,
the picturesque village of Rotoava with its nicely decorated Catholic church and its small craft shops,
the ancient Topaka lighthouse, made of coral stones and concrete.
Did you know that
Fakarava used to be called Havai'i or Havaiki in the past.
Fakarava is the second largest atoll in the Tuamotu islands, after Rangiroa and before Makemo.
The northern pass, Garuae is the largest in French Polynesia (5249 ft wide).
Tetamanu village is located at the Southern pass of Fakarava, which is famous for its exceptional marine life.
One of the first Catholic churches in French Polynesia, built of coral stones, is located in Tetamanu (southern pass). It was built in 1874.
The ancient Topaka lighthouse was built in 1957 by a woman, Mrs. Taui Degage, with a team of workers coming from Rurutu island. She was chosen as the main builder for many lighthouses of that kind.
Since 2006, Fakarava has been included in the UNESCO "biosphere reserve" classification, with six neighboring atolls (Taiaro, Toau, Aratika, Kauehi, Niau and Raraka), in recognition of their particular fauna and flora.
destination.video.label
Fakarava
destination.lienVideo.label
Air Tahiti magazine
Fakarava airport
Fakarava airport is located on the main island, some distance from the village of Rotoava.
There is no shuttle service, so to get to the main village you will need to go by car.
If you have booked tourist accommodation, find out from your hosts whether they can arrange your outward and return transfer.
Services available
Snack bar
Telephone kiosk
Toilets