Destination Moorea : Infos clés & aéroport
Moorea, the sister island of Tahiti, is situated 15 minutes away by plane. You will be enthralled by the beauty of the island renowned for its serenity and a striking change of scenery. The combination of beauty and easy access make Moorea one of the most popular destinations in Polynesia both for the local and the international clientele.
See more
Practical information
Population : + 16 000 inhabitants
Surface area : 51 sq. miles
Minimum flight duration : 0h15
Distance from Tahiti : 19 km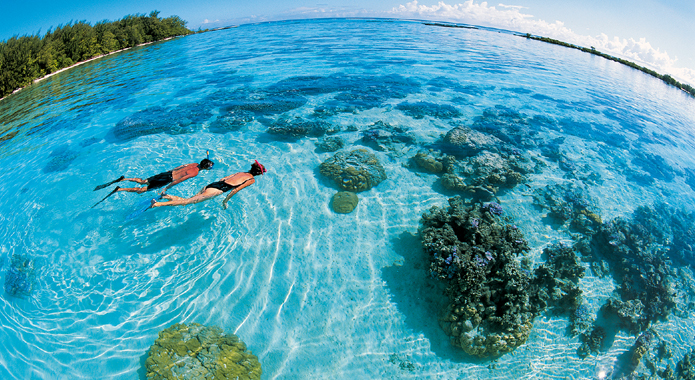 The good reasons to visit
A pleasant and relaxed atmosphere.
A preserved and sumptuous natural environment (valleys, bays, waterfalls, gazebo).
Magnificent archaeological sites.
The possibility of visiting pineapple and other crop plantations.
Moorea Green Pearl Golf course (18 holes).
Dolphin and whale encounters and tours (in season).
A wide range of quality restaurants around the island.
Many inland and nautical activities.
Do not miss
Cook's Bay, Opunohu Bay and Atiha Bay,
the "Belvédère" with its panoramic view on the bays and the impressive Mt Rotui in the middle,
Temae beach,
The octagonal temple of Papetoai,
Afareaitu's waterfalls,
The archaeological sites of Opunohu valley,
Paopao's market place,
The Moorea Dolphin Center and the Turtle Center at the Intercontinental Moorea Resort & Spa
The fruit juice factories "Rotui" of Moorea and Manutea (with visit and tropical fruit tasting),
The Tiki Village Theatre,
« Maison de la Nature du Mou'a Roa » where nature wonders are awaiting you,
The Moorea Tropical Garden,
The Pineapple Route,
Te Fare Natura - the eco-museum dedicated to Polynesian science and culture
The Magic Mountain, an unobstructed view of Opunohu Bay
Did you know that
Moorea used to be called Aimeho or Eimeo in the past.
Moorea means "yellow lizard".
The highest summit of the island is Mt Tohiea (more than 1 200 m in height = 3,960 ft).
The Papetoai temple is one of the most ancient European constructions in Polynesia (1827).
Beautiful ancestral stone platforms of archery can be found in the valley of Opunohu. Archery was not practiced by warriors but exclusively the male elite of the aristocracy as a sacred game.
Moorea airport
Moorea airport is located in the east of the island.
There is no shuttle service, but taxis and transport providers offer a service between the airport and the different villages.
If you have booked tourist accommodation, find out from your hosts whether they can arrange your outward and return transfer.
Services available
Air Tahiti agency
Souvenir shops
Taxis
Telephone kiosk
Toilets